Meet the Architects – Frederick + Frederick
Frederick + Frederick Architects is led by partners, Jane Frederick, FAIA and Michael Frederick, AIA. Jane and Michael have deep roots in the South and chose to locate their firm in Beaufort, South Carolina, a coastal town steeped in natural beauty and history. Architects Tom Rhodes, AIA, LEED AP & Benjie Morillo, AIA are both highly skilled in design, construction administration and technology. Office manager, Jessica Maffett, ensures that the office runs smoothly and efficiently.
Frederick + Frederick Architects has emerged as a leader in contemporary southern architecture in the more than 30 years they have been in practice. Their design aesthetic is based on the principals of historic architecture of the hot and humid south, with a decidedly fresh take on the traditional.
Frederick + Frederick Architects strives to create houses that are integrated into the landscape. The first step for every house is a careful site analysis. "Appropriate placement on the site is a crucial step for the success of the project," says Michael Frederick, "The house must respond to the sun angles, the trees, and the views. Placing a house in the context of its surroundings means the occupants' daily lives are enhanced, they feel more connected to the rhythms of nature, and the building is inherently more sustainable."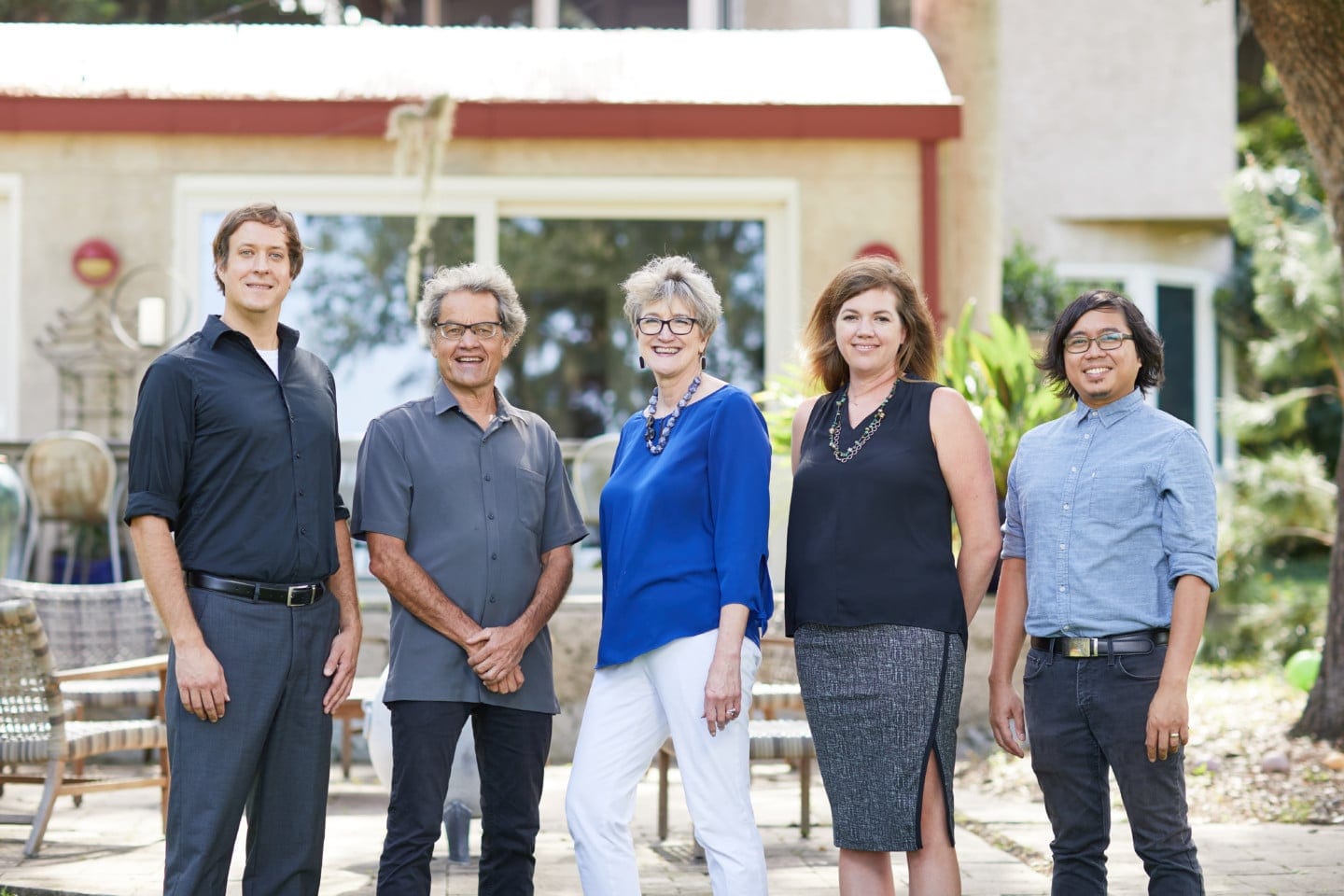 Frederick + Frederick's houses have seamless transitions from inside to out, with large expanses of operable glass and exquisite outdoor living spaces. Clever siting of outbuildings, like a garage or carriage house, create opportunities for magnificent courtyards, gardens, and outdoor rooms while also offering flexibility to save important trees. "By taking advantage of the outdoors, our clients gain living areas that are cost-effective, both to build, and to use and maintain," says Jane Frederick, "not to mention, enjoyable spaces to entertain and relax."
Sustainability is of the utmost importance to Frederick + Frederick Architects. As early signatories of the American Institute of Architects' 2030 Commitment, the firm joined the ranks of cutting edge architecture firms across the country in a joint effort to produce only net-zero energy buildings by 2030. A lofty goal, but by pairing the energy-efficient design practices and the latest technology, Frederick + Frederick Architects is hopeful that this goal can be achieved.
The firm has numerous accolades, including the prestigious Firm Award from the South Carolina chapter of the American Institute of Architects. The Frederick's own home; a funky, repurposed Quonset Hut was published in Southern Living Magazine as "Best Before & After." Their "Modern Dogtrot" in Palmetto Bluff, South Carolina has also graced the pages of Southern Living. Most recently, a nationally circulated magazine, Residential Design, published the firm's "T-House," which is a contemporary take on the traditional T-shaped floor plan house. Principal Jane Frederick has served on the National Board of Directors of the American Institute of Architects and was recently elected as its President for 2020.
Historically, Frederick + Frederick Architects focus was on custom designed homes. Recently they expanded their scope to include a number of plans that are based on regional building forms and are as the firm says, "Close to Custom". "Drawing on 30 years' experience designing custom homes, the plans thoughtfully consider the way people live and use the spaces in their homes," says Jane Frederick, "And we still start with site analysis, which is a key design phase that many pre-designed plans neglect." Their commitment to sustainable and resilient homes is reflected in the Close to Custom designs. For either a custom designed home or a Close to Custom home, Frederick + Frederick Architects can create a home for you and your family to enjoy for years. www.f-farchitects.com