July / August 2018
Crane Island Progress Blog
August 6th,  2018 – Crane Island – Fernandina Beach Florida.
Development Team Announces Homebuilders, Architects and Progress at Crane Island
Vertical construction begins on Amelia Island's luxury 113-home master planned community
AMELIA ISLAND, FLORIDA (Aug. 6, 2018) – Crane Island Real Estate, LLC announced today the four homebuilders, design talent and infrastructure progress at Amelia Island's Crane Island, a low impact, 113-home master planned community that will significantly increase the number of deepwater home sites and slips directly on the Intracoastal Waterway.
Since breaking ground earlier this year, the following infrastructure has been completed on Crane Island: 47 platted home lots, asphalt roads, sidewalks, signage, natural gas, city water supply and sewage system. By this fall, power, street lighting, cable and high-speed Gigabit Internet connectivity will be installed.
This month, construction will begin on the first Crane Island homes, with resident move-ins slated for Spring 2019. The second phase, which includes 66 platted home lots, will also be delivered in Spring 2019. The entire project will be completed in 2024.
"We are all inspired by the opportunity at hand – the incredible chance to sustainably develop one of the last parcels of Intracoastal Waterway land on Amelia Island," said Jack Healan Jr., developer of Crane Island. "We've been intentional in our selection of each company that will join the Crane Island family. Design matters at Crane Island, and each team member will contribute to our shared vision of creating a community where every home will offer a beautiful gift to the street."
The 185-acre community incorporates innovative water and energy conservation techniques such as bioswales (an alternative to retention ponds) that minimize its footprint on the environment. The developers and homebuilders are carefully conserving as much of the natural maritime forest as possible.
The architecture of Crane Island will take its cues from the canopy of Ancient Oaks accented with Spanish moss and palm fronds, and embodies a low country, coastal luxe aesthetic. Four architectural styles will gently guide the custom home designs. Photos of the four architectural styles are available here: https://see.craneisland.com/architecture.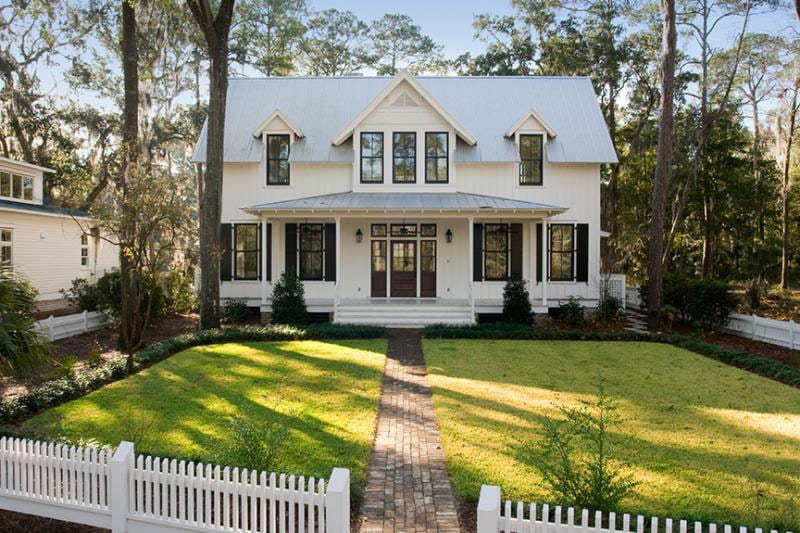 Homebuyers are afforded the opportunity to design a custom home from scratch or to engage with the Crane Island Portfolio Homes Program. This unique, time-saving program offers predesigned plans that the buyer can personalize to his or her liking by working with Crane Island's talented homebuilders and architects. Custom home prices range from the $700's to $3 million plus, and lot options include deep water Intracoastal Waterway, parkside, forest and marsh. Floorplans from the Portfolio Homes Program are available here: https://craneisland.com/floorplans/.
The Crane Island homebuilder and architectural teams are:
Pickett Construction and Allison Ramsey Architects: Jacksonville-based Pickett Construction is known for its quality custom homes in Northeast Florida and Southeast Georgia. The hands-on, family-run business works closely with its clients to deliver beautiful, innovative designs. This week, Pickett Construction will submit for a construction permit on its first home (details and imagery are available here: https://see.craneisland.com/Jekyll2). Pickett Construction has partnered with Allison Ramsey Architects, a Beaufort, South Carolina-based firm known for designing homes that have been featured in Garden & Gun, Coastal Living, HGTV Dream Home and more.
DF Luxury Homes by Marcus Meide and Markalunas Architecture Group: The custom homes division of Dream Finders Homes is known for classic architecture and craftsmanship that blends seamlessly with the natural surroundings. Although DF Luxury Homes has partnered with Markalunas Architecture Group to develop its model home, as well as its first showcase home, the homebuilder will also team up with other highly acclaimed architectural firms. Markalunas Architecture Group is a thoughtful and creative design firm that will apply its experience with luxe communities such as Palmetto Bluff to Crane Island.
Riverside Homes and Michael Stauffer Architect: Riverside Homes is a locally owned homebuilder focused on creating homes that are unique in character and function based on the homeowner's lifestyle. Riverside Homes has partnered with Michael Stauffer Architect, a Fernandina Beach local who expertly weaves the area's rich history and aesthetic into his timeless designs.
Cam Bradford Homes and Tim Brown Architecture: By listening closely and welcoming input at every step, Cam Bradford Homes creates homes that make a personal statement – a place that incorporates distinctive vision and style. Cam Bradford Homes has partnered with Tim Brown Architecture, a design team known for its modern farmhouse style. The duo will build a 5,000-square-foot waterfront showcase home with an estimated cost of $3 million.
With approximately 20 to 25 percent of each home's square footage dedicated to porch space, all Crane Island homes will maximize exposure to the island and feature a variety of stunning porches, a signature experience for the community.
"Life on the porch will be a huge differentiator for Crane Island," said Healan. "We are building an 'island within an island' – a walkable community filled with homes that rekindle America's love affair for porches and neighborly interactions. We look forward to seeing Crane Island come to life over the next several months."
In addition to community-oriented homes, Crane Island will feature a centrally located park that will play host to community events and spontaneous social gatherings; a clubhouse and chef's catering kitchen; an infinity pool overlooking the Intracoastal Waterway; a state-of-the-art fitness center; bocce courts; and a day dock with kayak and paddleboard storage. Crane Island will also be home to several community docks and an 8-foot wide trail for pedestrians, bikers and golf carts that provides direct access to the beach.
Outside the gated community, Crane Island residents will enjoy the City of Fernandina National Historic District, which spans 50 blocks of specialty shops, boutiques, historic sites and restaurants. Residents will also have access to two nearby marinas, as well as the opportunity to join the prestigious Amelia Island Club, which features two golf courses, 23 clay tennis courts, two fitness facilities and a luxury beach club with dining, pool and beachside services.
About Crane Island:
Crane Island is a luxury 113-home master planned community on Florida's Amelia Island, a part of the Sea Islands Chain of barrier islands on the Atlantic Coast. With over 3,500 feet of Intracoastal Waterway frontage and over 4,000 feet abutting salt marshes, the 185-acre site is the last parcel of waterfront land on Amelia Island. The sustainable community will preserve approximately 100 acres, including the majority of the mature maritime forest – a unique feature that creates seasonality within the coastal environment. Upon completion, Crane Island will more than double the home sites available on the Intracoastal Waterway.
With the first phase now open and phase two well underway with an expected completion in early 2019, Crane Island will emerge as a connected island hamlet that celebrates the site's history and natural surroundings, complete with a bird sanctuary, community park, gardens, walking and biking paths, day dock and beach access. At Crane Island, every home will offer a beautiful gift to the street with approximately 20 to 25 percent of space dedicated to the porch experience. Custom homes range from the $700's to $3 million plus. For more information, visit craneisland.com.
About the developers:
The vision for Crane Island was born from two longtime friends and business executives, Saad Wallan and Jack Healan Jr. It's the first new development in the area offering deep water access to the Intracoastal Waterway in 15 years. Both Wallan and Healan are committed to honoring and protecting the island's storied past and natural environment, and building a timeless, connected community where life begins and ends on the front porch.
Wallan, an international businessman, brings experience from his tenure in the automotive, aviation and real estate industries. Healan, former President of the Amelia Island Company, is highly regarded for his 30-plus years of involvement in the development of Amelia Island Plantation, Marsh Lakes and Brady Point Preserve. In 2012, they formed a partnership to pursue real estate opportunities. Recognizing Crane Island as Amelia Island's final waterfront property, the partners purchased it in 2014. The community is slated for completion in 2024.
###
Media Contact:
Liana Moran
The Wilbert Group
770-905-9915
<div class="typeform-widget" data-url="https://craneisland.typeform.com/to/Jyf6tH" style="width: 100%; height: 500px;"></div> <script> (function() { var qs,js,q,s,d=document, gi=d.getElementById, ce=d.createElement, gt=d.getElementsByTagName, id="typef_orm", b="https://embed.typeform.com/"; if(!gi.call(d,id)) { js=ce.call(d,"script"); js.id=id; js.src=b+"embed.js"; q=gt.call(d,"script")[0]; q.parentNode.insertBefore(js,q) } })() </script>