Written By Lori Hoerl
At Crane Island, we have a deep appreciation for our natural surroundings, the people who have shaped our local history, and the stories that continue to be told through the deep connection our neighbors have to this island we call home.
An island within Amelia Island, Crane Island shares a storied past and a way of life deeply rooted in a love of the water and the people who have made their living off of it.
On the North end of Amelia Island, just over a small bridge, you'll find a tiny piece of old Fernandina Beach.  Once home to the shrimp capital of the world, this quaint riverfront town now exudes a landscape reminiscent of days gone by where weathered shrimp boats and aging docks meld with luxury yachts and a bustling main street downtown.
It is here on the north end of Amelia Island, once home to the historic Pogy Plant, that you'll find a net maker weaving history and continuing a family legacy as he shares the stories of a once thriving shrimping industry.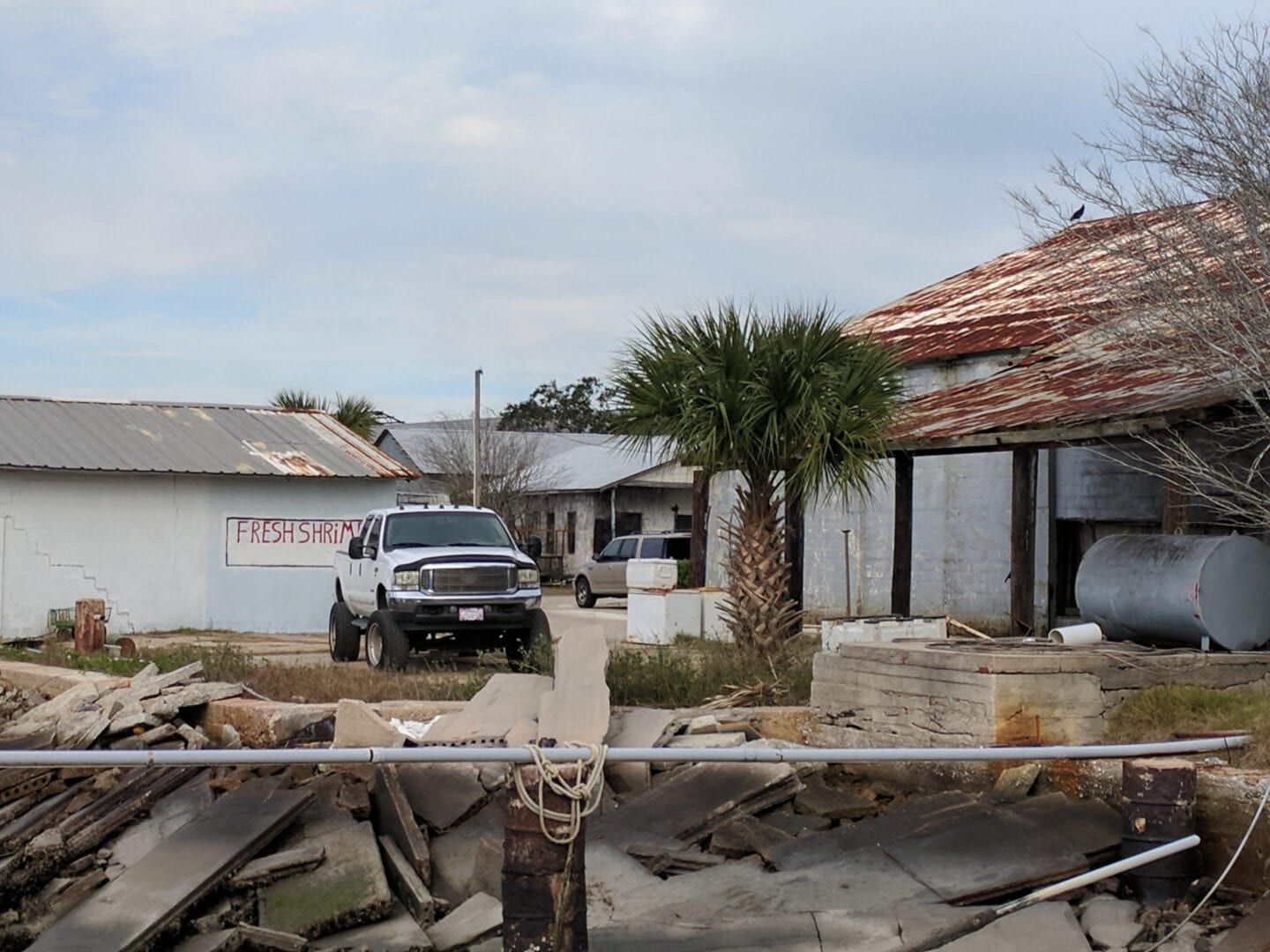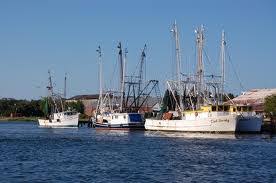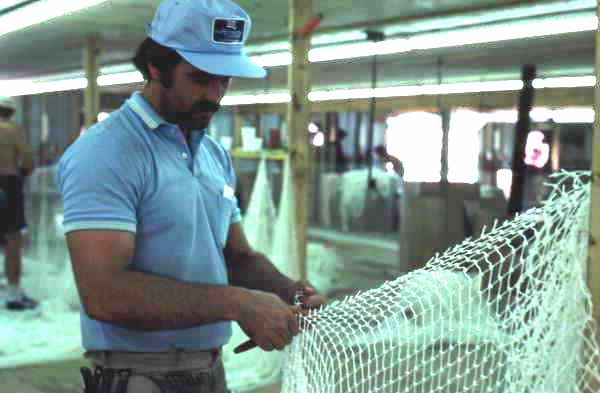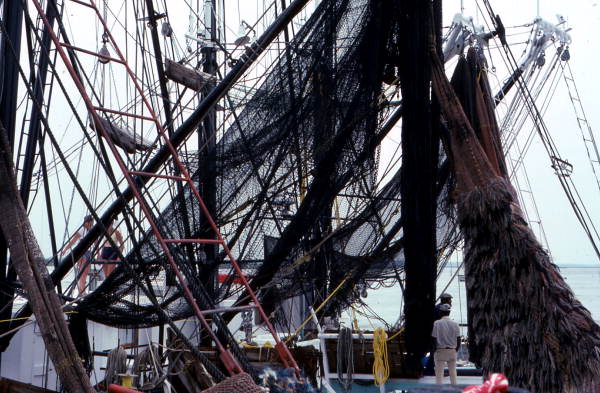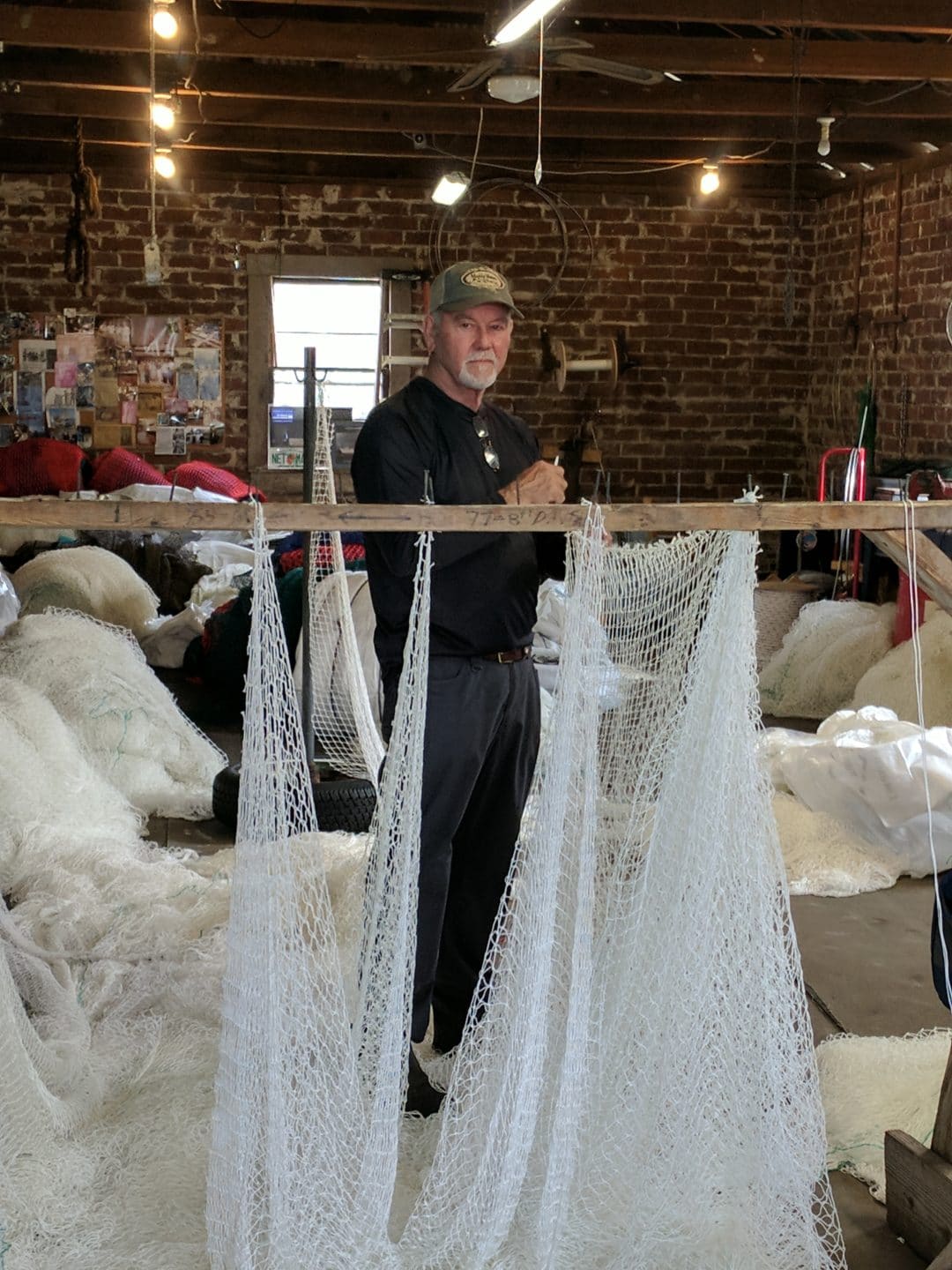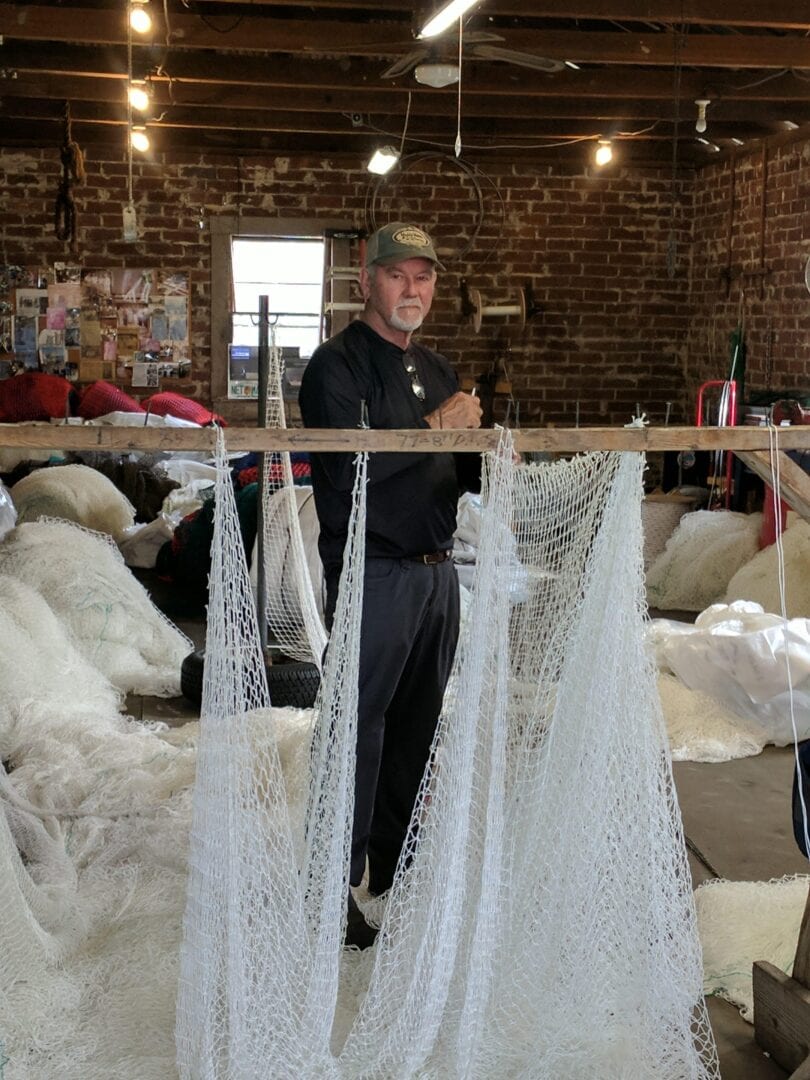 A lot has been written about Billy Burbank III and his family's rich history of providing nets to local shrimpers who once lined Fernandina's docks. But on a quiet winter Saturday, it wasn't so much the dates Billy wanted to talk about, but the people and moments who have shaped his life, and the memories he cherishes the most.
Billy Burbank, III, was born in Fernandina Beach, Florida, on October 2, 1951. He'll tell you he is a son of a son of a net maker. In fact, he started making nets when he was just nine years old.
He says his father would ask him to come and make nets after school, when football was done, and on Saturdays. Still, Billy wonders, "How is it that nothing has taken me out of being a net maker? You can hardly say this is a coincidence or that this is all I know how to do."
When you hear the story of the Burbank family and their legacy as net makers to the world, one can't help but think it was their and Billy's destiny.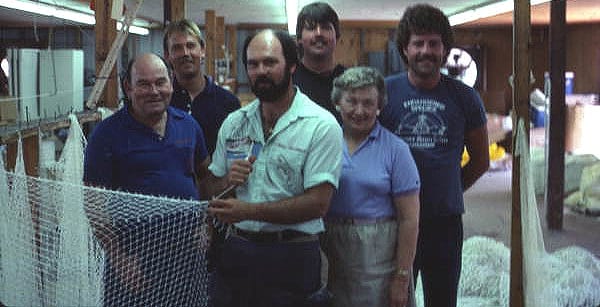 The Burbank family's net making venture has lasted for over 103 years, with the 4th generation William Hunter Burbank, IV, now handling production for Burbank Sport Nets, the offshoot of the original Burbank Trawl Company.
The Journey To Becoming Net
Makers to the World
Billy III says that he's read that, counting the grandchildren of today, the Burbank family has been in America for 14 generations.  The family's journey to becoming a leading net manufacturer began with their ties to the shrimping industry.
Billy's grandfather was born just up the river from Amelia Island, on Cumberland Island, Georgia. In fact, at one point, his ancestors owned an Inn on the pristine wilderness island at the northern end in an area known as High Point.
But it was Billy's grandfather, William Burbank Sr., that planted the seed of what would become a world-wide legacy in net making, deeply rooted in the once shrimp capital of the world.
Billy Burbank, Sr. started shrimping when was 15 years old. At that time, shrimping was still a rowboat-and-cast net operation and most shrimpers made their own nets. After getting into the shrimping industry, Billy's grandfather starting making his own nets as well. But when the nets Billy's grandfather made started out producing everyone else's, people started asking him to make their nets.
In no time at all, Billy's grandfather was making nets for shrimpers up and down the East Coast and delivering chickens and eggs to the wealthy Carnegies from his shop in downtown Fernandina.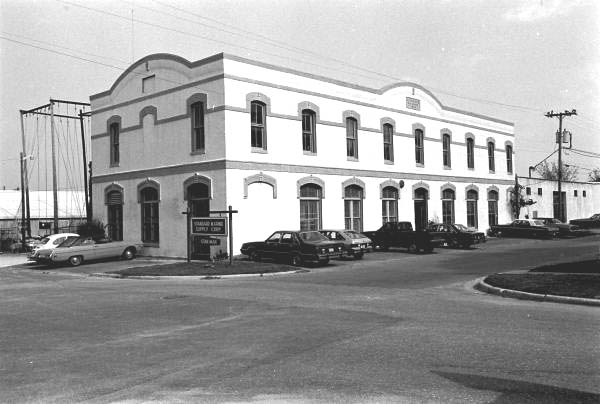 In 1915, Cumberland-born William Burbank Sr., or Pop as Billy III remembers him, began crafting his own nets by hand from factory-made cotton netting. His grandfather gave up shrimping and blue fish fishing and started making nets full-time. The Burbank net business opened that same year and, with it, began the legacy that is the Burbank family.
Billy will tell you that net making isn't easy work. Long days on your feet working continuously with small hand tools were the norm.
His family created nets by hand with a net needle or shuttle, one of the main tools used by net makers. Some net makers also use a small pairing knife or a pair of scissors. Billy says, "The Burbank's always used a very sharp knife that was continuously sharpened for the amount of use it got during a 10-12 hour day."
In the earlier days of net making, the netting was more of a cotton fiber, making it easy to cut. With the introduction of nylon and other synthetic materials to make the nets stronger, the work became more laborious. Today, net makers use polyetheline and Dyneema® fibers to make the netting that net makers will cut and sew into trawls – nets for shrimping, fishing, and more.
So what does it take to become a net maker to the world?
Read On – in Part II in our series of VII – Net Maker to The World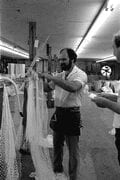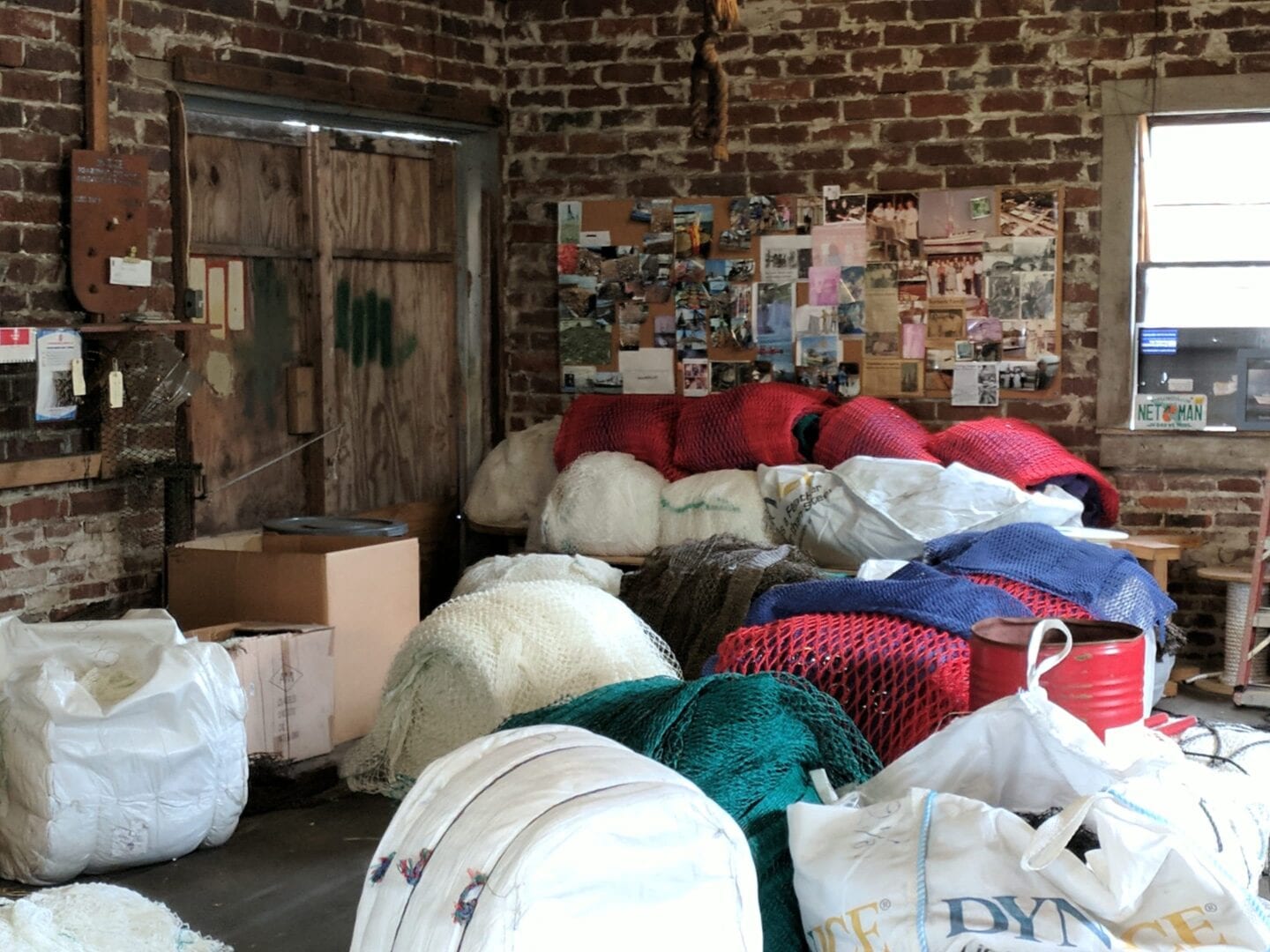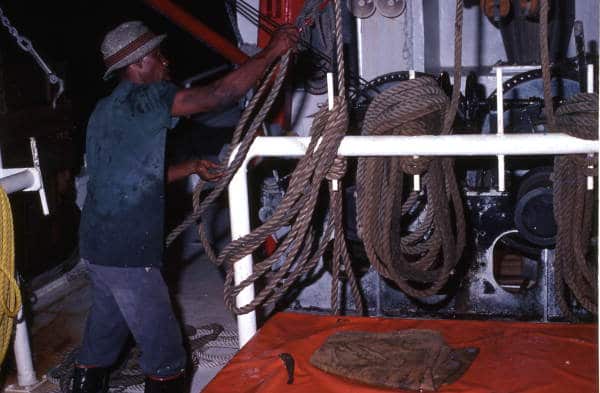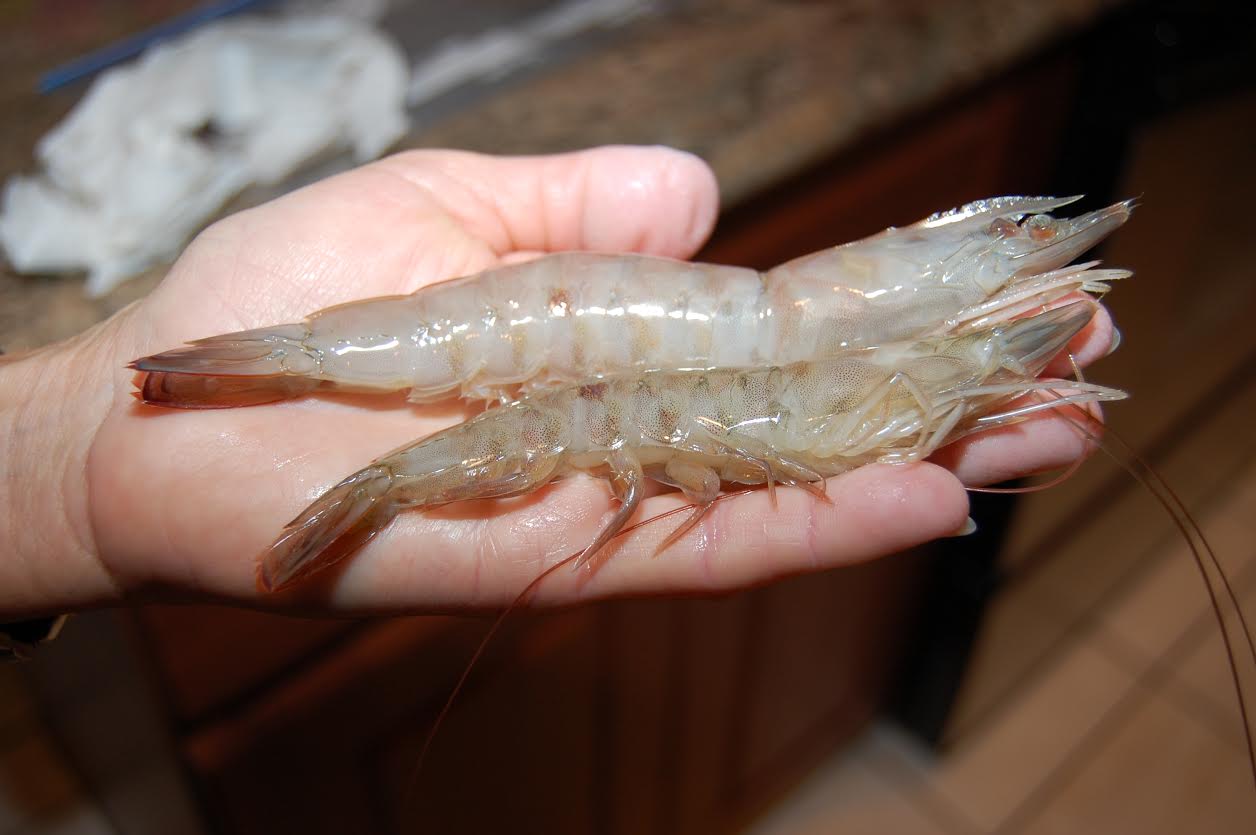 Visit Burbank Sport Nets
325 Pogy Place, Fernandina Beach, FL 32034
904-321-0976