Sean McCarthy, Songwriter
Sean McCarthy knows the sounds of Fernandina Beach like the back of his hand.
After spending decades building his career as a respected recording artist and singer/songwriter in Nashville with several national credits to boot, Sean felt a calling to return to his childhood hometown.
Back on Amelia Island, he continues to write his original "Coastal Country" tunes and regularly performs around town with the Sean McCarthy Band. With a captivating storytelling quality, his lyrics have been described by friends and fans as a blend between James Taylor and Jimmy Buffett with a side of pedal steel.
Sean's third Album, "Last House On The Beach" is set to release this summer. He found most of the inspiration for his latest songs in his own backyard, including a tribute to the history of Crane Island.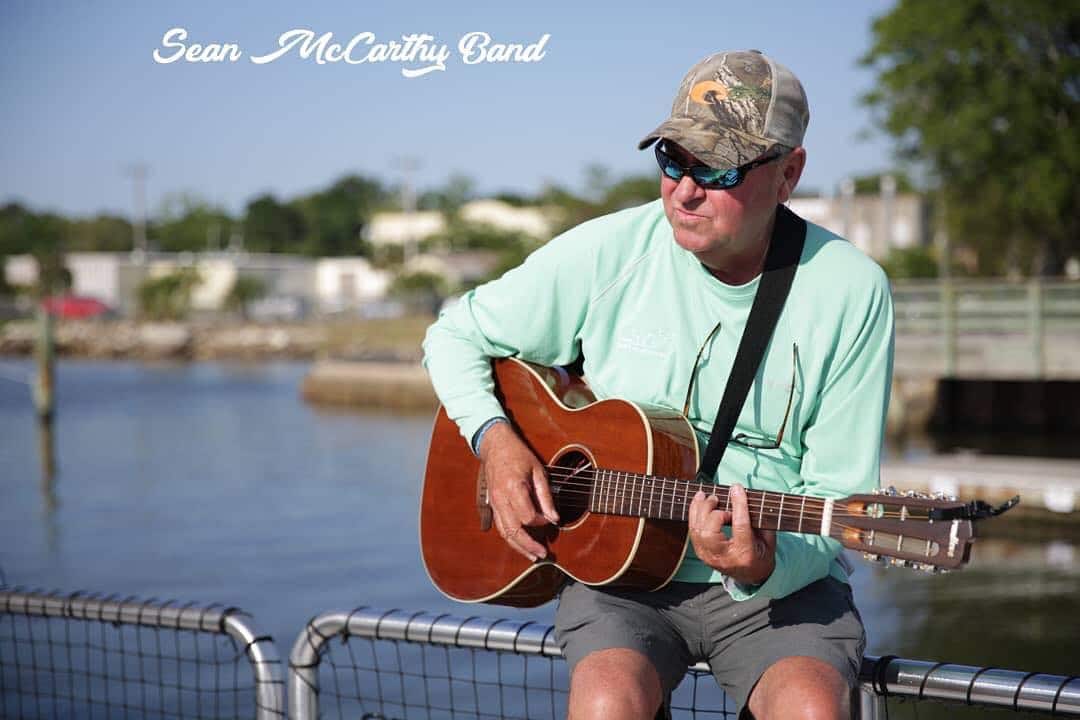 Named for Sarah Alice Broadbent, Sean and co-writer Daniel Daly wrote a new ballad that takes a different look at a familiar old tale. As the story goes, the Broadbent family moved to Crane Island from England in the late 1800s. Very little was documented about Sarah Alice's life, other than 1900 census records showing she was then 16 years old, her father was widowed, and her sister was married. After her father passed away, Sarah Alice lived alone in the house he had built with no gas or electricity. She was rarely seen or photographed yet there was no shortage of rumors surrounding her reclusive lifestyle. Many people assumed she was mean; others called her a witch.
"A lot of the older people I talked to about her before I even started writing the song said, 'She was a strange bird, never wore shoes and wouldn't talk to you,'" Sean said. "Maybe she acted mean, but I don't think she really was. Maybe she just liked being out there by herself on the island and didn't want to be bothered, which back in those days was pretty common. I don't see her as an ugly or mean person. I see something beautiful in her. She found peace on the island; it was her refuge. On the island she was free, and if you think about it, that's how old Florida used to be: majestic."
Like Sarah Alice, Sean moved to Northeast Florida as a child with his family. He can still recall discovering Crane Island's wild beauty as a 7-year-old transplant from Massachusetts in the 1960s.
When you hear Sean strum the first few chords of "Sarah's Island, you may feel a sense of peace and calm wash over you like an ocean breeze. That is no coincidence, as he aimed to capture the feeling of being on the island with his guitar.
"The day I started writing, I jumped on my bike and I rode all over Crane Island. It was a Sunday afternoon, I had the island all to myself and took the whole thing in," said Sean. "That's where I came up with the first few lyrics of the song."
She was born Sarah Alice Broadbent
Momma said she was heaven sent
As they made their way across to America
Her Daddy bought a piece of land, their own little island
Strong and wise together they raised her up
Deep inside, back then, young Sarah knew
This island would have a hold on her as strong as any glue
Unlike Sarah Alice, Sean is a familiar face and community ambassador on Amelia Island for visitors and locals alike. When he is not performing or writing songs, he also serves as a licensed charter boat captain and a sought-after fishing guide.
The local landscape has also inspired his music on his previous albums "Bad Day of Fishin'" and "Life in a Beach Town" preaching the gospel of Amelia Island's laid-back atmosphere by the sand and sea.
He isn't alone here. "A lot of great musicians have come out of Fernandina," he said of the island's music scene, including several fellow natives who have also found success in Nashville with cuts for big-name stars like George Strait, Kenny Chesney and George Jones. Lately, however, Sean travels to Music City less often. Instead, longtime friends and colleagues enjoy coming to him for beachside songwriting sessions.
"Maybe there's something in the water," he added.
Since he first picked up a guitar at age 14, Sean has seen plenty of changes on Amelia Island as the area has grown in population and popularity as a destination for travelers and second-home owners. The Band's latest single titled "Gimme Back My Island" evokes nostalgia for a simpler time, however Sean encourages listeners young and old to find the call to action in his lyrics.
"You can't stop progress," he said. "The only thing I can think to do is share a message through my song: be good to each other and treat our island like it's your home and has been your home forever."
This place certainly has a hold on Sean stronger than any glue. By honoring and protecting the area's wild beauty, future generations will also able to continue to experience that special connection to nature and the rare sense of peace and solitude Crane Island offers in a modern world. Maybe that was all Sarah Alice wanted, after all.
Sean debuted "Sarah's Island" live at the grand opening of the 2019 Southern Living Idea House on Crane Island in June. To hear these songs and more, check out the Sean McCarthy Band on iTunes, Amazon Music, Spotify and all other streaming and downloading outlets. For more information including a calendar of upcoming performances check out seanmccarthyband.com, on Facebook at www.facebook.com/SeanMcCarthyBand.