This page is dedicated to one thing in giving you the facts of where we are at Crane Island at any given point in time. Think of this as the "just the facts" page to help you know when we started, how much we have sold, how much we have built, and so on.  Come back often as we will keep this page updated so you are in the know.
WHAT MATTERS HERE -
JACK HEALAN, JR
COMMUNITY
185 acres / 112 lots
River House Amenity - Pool, Gym, Bocce Court, Club Room, Fire Pit, Canoe & Paddle Storage
15 Acre Crane Island Park
2.5 Mile River To Sea Trail
Alice Park - 800 feet on Intracoastal Waterway
DEVELOPMENT 
Purchased in 2014
Infrastructure Began in Fall of 2017 & Completed Dec 2018
Address is City Of Fernandina Beach
City Water & Wastewater
Natural Gas
AT&T Fiber To Home (Gigabit)
PROCESS
1. Homesite Selection & Closing
2. Select From Dozens Of Home Plans Or Architect Path
3. Select 1 of 6 Crane Island Builders
Important Timelines
Start Construction 12 Months From Homesite Closing
Complete Home Within 18 months Of Starting (most take 13 to 18 months)
*Build A Garage Carriage House To Qualify Construction Compulsion
SALES
Sales Began Summer 2018
 82 - Lot Closings       
(72% sold) 
14 - Homes Completed
25 - Additional Homes Under Construction
16 - Homes In Final Design Stages Will Begin In 6 months Or Less
All Lots Released & Available For Purchase   (30 Available)
HOMES - UNDERWAY & IN DESIGN REVIEW

PURCHASE
The Purchase of Crane Island took place in early 2014 by Mr. Saad Wallan & Jack Healan, Jr. The vision of Crane Island begins.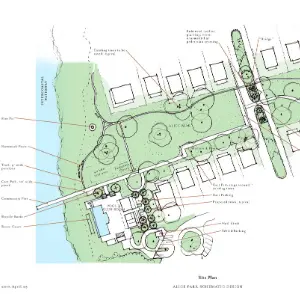 PLANNING
The Vision of Crane lsland has always been centered on two important principles:
-Stewardship Of The Natural Environment so that we can save trees
- Timeless Design Based On Historic Precedent
Crane Island retains Historical Concepts to develop the Land Plan & Architectural Guidelines
Crane Island Hires Dr. Michael Coffey to lead the charge on Low Impact Development & Water Management
SITE WORK BEGINS
With approval from Nassau County on the new Land Plan of just 113 homes (down from 169), the team set off to begin the early stages of roadways, utilities, and the network of parks.
PHASE 1 OPENS - SALES BEGIN
Phase 1 consisting of 47 homesites received Plat approval in May of 2018. This was an important Milestone as the infrastructure to support construction of homes was complete. We also signed on our 4 Participating Builders with:
- Cam Bradford Homes
- DF Luxury Homes
- Pickett Construction
- Riverside Homes
Noteworthy Moments In 2018
1. Southern Living selects Crane Island as the site location for 2019 Idea House.
2. Builders Begin Model Homes & 1st Resident Home.
3. 3. Lots Closed in first 6 months of Selling
4. The first Park facing Lots 7-9 & 10 Opened
5. All Roads Paved
6. Sitework began on River House Amenity
SOUTHERN LIVING IDEA HOUSE & PROGRESS
Major Progress in 2019 with the opening of 33 Additional homesites along Alice Park & Cottage District. Major Milestones Include:
Southern Living Idea House Opens and brings in 15,000 visitors.
20 - Lot Closings by end of year
First Owner Moves In
3 Model Homes Sold Including Southern Living Idea House
River House set to open in Feb 2020.
All Roads & Utilities done for all 113 homesites.
6 Homes Built in 2019 with 8 Additional to Start by April 2020.
2020 PROGRESS
DEVELOPMENT:
1. River House Open
2. River House Dock Open
3. 3 Property Owner Boat Arrivals
4. Crane Island hosts the Pirates Invasion Of Crane Island 5K Running Event with 200 runners
5. 2 New Releases - Cottage District 107 - 113) & New River Homesites (81 to 85). Plat Approved for River Lots.
ROOFTOPS:
5. 8 Homes Completed & 11 Under Construction
6. 12 New Homes - In Planning & Permitting.
SALES 2020:
- 16 lot closings
- 5 Additional Lots Under Contract
- 3 Home Closings (Including Southern Living Idea House, 31 & 9)
- 12 Signed New Home Construction Agreements + 5 New Agreements In Process
- 6 New Builders Spec Homes Underway Or Will Begin By March 2021.
2021 PROGRESS
DEVELOPMENT:
1. 7 New River Lots 86-90 & 105&106 Released - Plat Date Summer 2021 For Recording & Closings
SALES 2021:
-  5 Lot Closings
-  5 Lots Under Contract
-  4 New Home Build Agreements
SALES - LIFE OF PROJECT
- 57 Total Lot Closings
- 14 Completed Homes
- 22 New Construction Agreements Signed + 12 In Process
- 4 Spec Homes Available For Sale