THE AMELIA ISLAND CLUB
The Amelia Island Club is located on the southern tip of beautiful Amelia Island, Florida. The Club is situated within the boundaries of Amelia Island Plantation, an upscale resort community sitting between the Atlantic Ocean and the beautiful marshes along north Florida's Intracoastal Waterway. As a Club Member, you will enjoy a wide range of premium amenities such as the member-owned Long Point Golf Course and Clubhouse, and use of resort-owned facilities including Oak Marsh Golf Course, the Health & Fitness Center which features 23 Har-Tru tennis courts, and the Omni re-imagined Beach Club. 
Our Club members also enjoy the many activities that Omni Amelia Island Plantation offers.
Crane Island Owners may join the Amelia Island Club and we invite you to learn more about the Club and how to become a Member 
TENNIS
 Since 1974, guests and professionals have been enjoying this prestigious tennis facility set beneath a canopy of majestic live oaks and featuring 23 Har-Tru® fast-dry clay courts, a tennis pro shop. Legends of tennis have played at Omni Amelia Island Plantation resort including Andre Agassi, Martina Navratilova, Chris Evert, Martina Hingis, Maria Sharapova and the Williams sisters.
 The Cliff Drysdale Tennis program offers the "Ultimate Tennis Experience" in one of the world's truly amazing locations to play tennis. Tennis programs operate year round and cater to all experience levels and to individuals, couples, families, and team groups. Our comprehensive adult and junior options have everyone's game covered. Programs include: adult camps, ladies retreats, junior camps, private lessons and clinics, local, junior, USTA and professional tournaments.
 PICKLEBALL
 Enjoy America's newest sport, pickleball. Four courts are ready for play at the Racquet Park. Complimentary lessons and clinics are held regularly, as well as weekly round robins for all skill levels. A paddle sport created for all ages and skill levels that combines elements of badminton, tennis and table tennis. The rules are simple and the game is easy for beginners to learn, but can develop into a quick, fast-paced, competitive game for experienced players. On a court the size of a doubles badminton court, players (either 2 for singles or 4 for doubles) hit a ball similar to a wiffle ball with a composite paddle over a net that is approximately 36" high. You can only score when serving. Games are generally 11 points, must win by 2.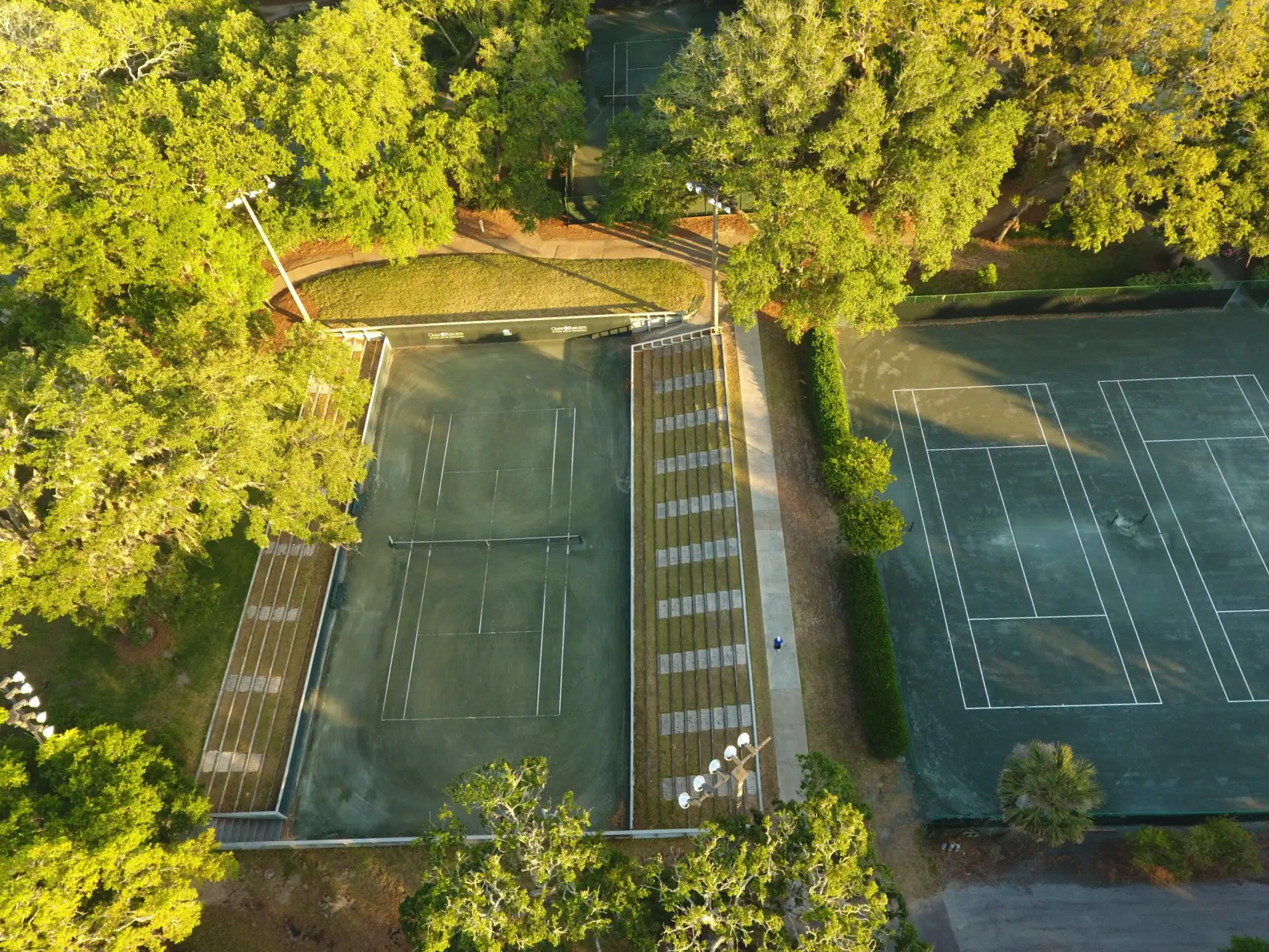 360 TOURS OF AMELIA ISLAND CLUB